VIVA AEROBUS NAMED VALUE AIRLINE OF THE YEAR BY AIR TRANSPORT WORLD
Published Wednesday, October 6, 2021
Boston, Massachussets, October 6, 2021 – Viva Aerobus officially received the award 'Value Airline of the Year' at the 47th Annual Air Transport World (ATW) Aviation Industry Awards ceremony, held yesterday at the Revere hotel in Boston, Massachusetts.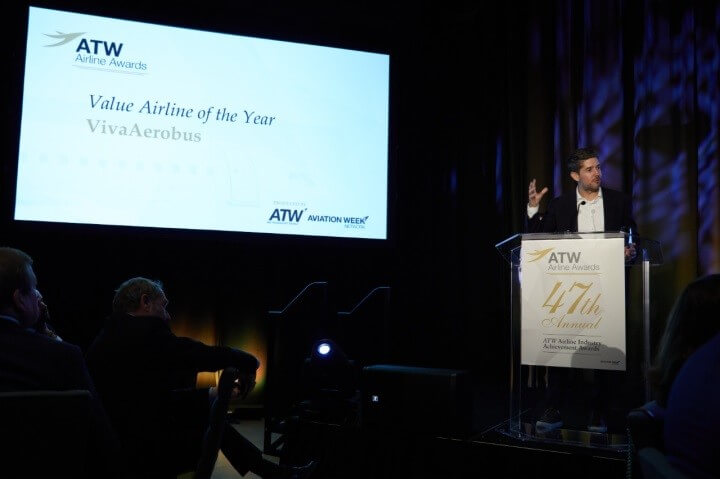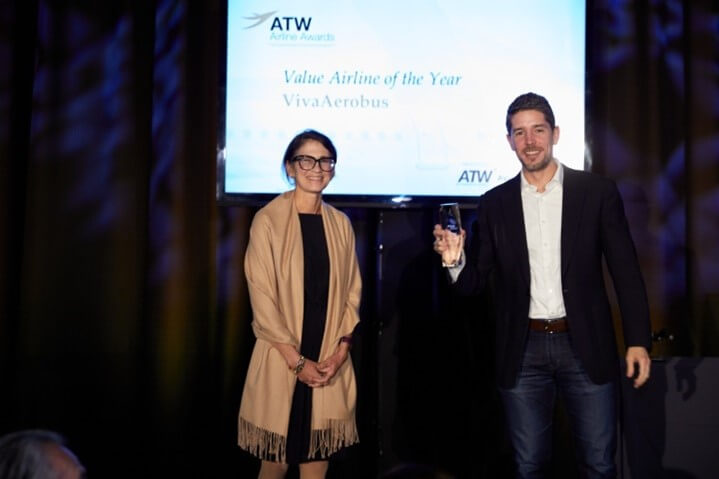 Established in 1974 to recognize excellence in the air transport industry, the ATW Airline Industry Achievement Awards are the most coveted honor an airline or individual can receive. They are bestowed upon individuals and organizations that have distinguished themselves through outstanding performance, innovation, and superior service.
Particularly, the 'Value Airline of the Year' award recognizes those airlines that, besides having a safe and highly efficient operation that results in affordable fares and sustained growth; also provide added value in their service in terms of innovation and travel experience.
During the event, ATW highlighted the long-term work of Viva Aerobus to transform the Mexican airline industry by giving more people the opportunity to fly thanks to a service distinguished by low fares and a comprehensive connectivity: air + land. Viva, member of Grupo IAMSA -leading multimodal transport group in Mexico- offers its passengers the possibility to complement their flight with land transportation and get an all-in-one bus connection between airports and their hometowns with exclusive fares on the most prestigious bus companies in the country.
"We are very proud to be named the Value Airline 2021, proof of the professionalism, dedication and commitment of our team to serve our passengers safely, reliably and always at the best price, even within challenging scenarios," mentioned Juan Carlos Zuazua, CEO of Viva Aerobus. "Viva Aerobus is distinguished by having the youngest fleet in Mexico, providing the greatest flexibility to passengers and by our great innovation capacity to enhance the service and experience of all our passengers," he added.
Recently, Viva Aerobus has implemented new programs, products and policies to improve passengers experience according to current priorities and needs focused on two main issues: a) provide passengers peace of mind in the event of unforeseen situations and b) offer payment facilities to take care of the affected economy of travelers considering the effects of the pandemic.
For instance, Viva renewed its flexibility policy, making this airline a pioneer in Mexico in terms of getting rid of additional change fees. It also developed one of the flight insurances with the widest coverage. 'Full Refund' protects passengers, at very accessible fares, against eventualities such as illnesses (including COVID-19), accidents, government travel bans, theft, and adverse weather, etc.; guaranteeing 100% cash back.
Viva Aerobus also revolutionized the air industry by launching the most competitive fare option on the market: Zero Fare. This is a fare for those who travel only with a personal item such as a handbag or back pack, thereby receiving a discount in exchange for their right to carry luggage. The airline even created a payment alternative that allows passengers to book their flight and postpone the payment of up to 60% of the total cost by deferring the settlement of the Airport Departure Fee (TUA), from the time of purchase until flight's departure.
As a result of this commitment to a passenger-focused service, Viva Aerobus has positioned itself as the first Mexican airline to exceed pre-pandemic demand levels since April 2021, registering more than one million monthly passengers five times in a row; an historic record for the company.
To meet this growing passenger preference and air connectivity needs at a critical time for tourism and economic recovery, the airline keeps its growth strategy. So far this year, Viva has already inaugurated 11 new routes, 6 domestic within Mexico and 5 international. Besides, last August, Viva received its 50th aircraft, a new Airbus A321 neo; currently, Viva has the youngest fleet in Mexico and the second youngest in North America with a 4.6 years average age.
About Viva Aerobus
Viva Aerobus is Mexico's ultra-low-cost airline. It started operations in 2006 and today it operates the youngest fleet in Mexico and the 2nd youngest fleet in all North America with 50 Airbus: 40 Airbus A320 and 10 Airbus A321. With a clear vision to give all people the opportunity to fly, Viva Aerobus democratized the airline industry with the lowest fares in Mexico and the lowest costs in Latin America. For more information please visit: https://www.vivaaerobus.com/en.
Press Contacts:
Walfred Castro, Corporate Communication Director of Viva Aerobus - walfred.castro@vivaaerobus.com
Tarssis Dessavre, Account executive of PRoa Structura - tdo@proa.structura.com.mx – Tel. 55 5442 4642 - ext.26 / Cel. 55 2751 1709